Multimedia content

Images

(2)

From left to right: Mr. Isaiah Okoth, Country Director Kenya, PharmAccess Foundation and Mr. Andrew Waititu, General Manager for GE Healthcare East Africa during the MCF/GE Healthcare partnership announcement (1)
From left to right: Mr. Isaiah Okoth, Country Director Kenya, PharmAccess Foundation and Mr. Andrew Waititu, General Manager for GE Healthcare East Africa during the MCF/GE Healthcare partnership announcement (2)
Source: GE |
Kenyan Small and Medium Healthcare providers to get boost in accessing financing for Medical Equipment purchases
The Medical Credit Fund (MCF) and GE Healthcare are partnering towards improving access to quality healthcare services for patients in underserved areas with high populations
GE Healthcare will support the program through provision of GE equipment and technical support
NAIROBI, Kenya, April 12, 2019/APO Group/ --
Small and medium private healthcare providers can access loans for the purchase of medical equipment by providing their MPESA /MTIBA statements.
GE Healthcare (www.GEHealthcare.com) and Medical Credit Fund (MCF)-part of the PharmAccess group- (www.MedicalCreditFund.org) have entered into a partnership to enable small and medium private healthcare providers to access loans for the purchase of GE Healthcare manufactured medical equipment. The announcement was made during a Radiology Clinical Day organized by GE Healthcare and the Kenya Association of Radiologists (KAR).
The partnership aims to improve access to better quality healthcare for patients living in underserved areas by financing the purchase of various diagnostic equipment. Under the partnership, the MCF will provide access to mobile-based lending and business improvement programmes to eligible healthcare providers, while GE Healthcare will support the program through provision of GE equipment and technical support.
Borrowers which qualify for loans include eligible healthcare facilities in the private sector offering a broad array of primary care services and especially with an explicit focus on family and mother-child care. Under the partnership, borrowers will be able to secure loans of up to $100,000, by providing limited information notably their MPESA /MTIBA statements, with a 24 months repayment plan.
"There is a case for innovative financing models and technical support to healthcare SMEs to support them to grow and improve the quality of healthcare services they deliver to underserved populations. Together with GE Healthcare, we are looking at social entrepreneurship in the healthcare space as an entry point to strengthen the healthcare system and to support the achievement of UHC goals." said Mr. Isaiah Okoth, Country Director Kenya, PharmAccess Foundation.
On his part, Mr. Andrew Waititu, General Manager for GE Healthcare East Africa said, "We are committed to developing new delivery models that improve access, clinical quality and patient outcomes as we progress towards Universal Healthcare Coverage. Our collaboration with Medical Credit Fund is a significant step towards attainment of this goal".
The interest rate cap regulation has further reduced lending to SMEs, with banks preferring to lend to larger, well established and less risky customers.
One of the first beneficiaries of the program, James Ndaba Head of Administration at Trinity Care Centre said, "We always wanted to upgrade to the latest Ultrasound machine, but financing was a challenge. Through the MCF and GE Healthcare financing program, we were able to easily acquire an ultra-modern Ultrasound machine which our patients like and hence prefer our facility over others nearby. We have also seen the number of our patients per month increase by over 40%.
According to Kenya Master Facility List (http://bit.ly/2GiYaXe), Kenya's healthcare landscape is 50% public and 50% private. The public sector struggles to meet the dual demands of growing populations and limited resources. As a result, over 50 percent of Kenyans are using private healthcare facilities. But the private-sector also faces an uphill struggle in delivering quality, affordable healthcare. The small and medium enterprises (SME's) that serve lower income groups often function with sub-standard infrastructure and equipment and a scarcity of skilled medical staff. Despite demand and an obvious need, health SMEs have difficulty accessing capital to improve this situation. This is because of the perceived high investment risk due to a lack of banking history and limited collateral.
Distributed by APO Group on behalf of GE.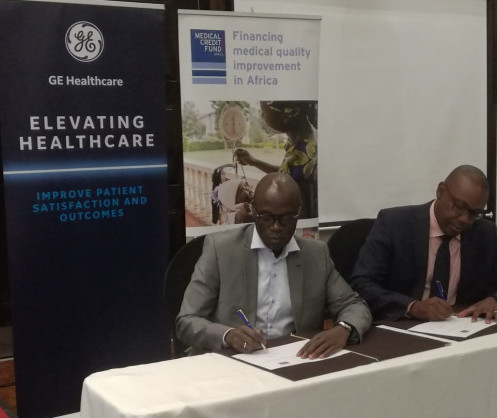 Media Contacts:
Annette Mutuku
Email: annette.mutuku@ge.com
Phone: +254701728249
Felix Muvea
Email: f.muvea@pharmaccess.or.ke
Phone: +254721 236626
About Medical Credit Fund:
The Medical Credit Fund (MCF) (www.MedicalCreditFund.org) is a non-profit health fund dedicated to providing loans to small and medium-sized healthcare facilities in Africa. Together with local partners, Medical Credit Fund works to reduce investment risks and improve the bankability of private healthcare enterprises. MCF believes that by increasing the total amount of available capital for the health sector, healthcare providers can deliver better services for larger numbers of primarily low-income individuals. MCF is the first and only fund of its kind. For more information visit www.MedicalCreditFund.org, or follow us Twitter
About GE Healthcare:
GE Healthcare is the $19,8 billion healthcare business of GE (NYSE: GE). As a leading provider of medical imaging, monitoring, biomanufacturing, and cell and gene therapy technologies, GE Healthcare enables precision health in diagnostics, therapeutics and monitoring through intelligent devices, data analytics, applications and services. With over 100 years of experience in the healthcare industry and more than 50,000 employees globally, the company helps improve outcomes more efficiently for patients, healthcare providers, researchers and life sciences companies around the world. Follow us on Facebook (www.facebook.com/GEHealthcare/), LinkedIn (http://bit.ly/2GjQa8B), Twitter (Twitter.com/GEHealthcare) and The Pulse (Newsroom.GEHealthcare.com) for latest news, or visit our website www.GEHealthcare.com for more information.