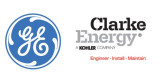 Multimedia content

Images

(1)

GE's Jenbacher Gas Engines
Source: GE |
Clarke Energy Has Been Named Preferred Bidder for Symbion Power's Lake Kivu Power Projects, Featuring Approximately 25 of GE's Jenbacher Gas Engines
Clarke Energy Will Create New Jobs in Rwanda to Service GE's Jenbacher Gas Engines
After a long and rigorous competitive process, we have selected Clarke Energy, using GE's Jenbacher gas engines, as our preferred technology provider
JENBACH, Austria, August 29, 2018/APO Group/ --
Clarke Energy (https://www.Clarke-Energy.com/) to Provide Approximately 25 of GE's (www.GE.com) Jenbacher Gas Engines for Symbion Power's Kivu 56 and KP1 Power Plants in Rwanda; Two Power Projects at Lake Kivu Will Increase Capacity by 81 Megawatts and Significantly Reduce the Current Cost of Generation in Rwanda; Clarke Energy Will Create New Jobs in Rwanda to Service GE's Jenbacher Gas Engines.
Symbion Power (http://www.Symbion-Power.com/) has named Clarke Energy as the preferred bidder for two important power plants in Rwanda, which will generate power from dissolved biogas from deep below Lake Kivu. The projects include approximately 25 Jenbacher* gas engines from GE's Distributed Power business (NYSE: GE). This announcement coincides with a British Government trade delegation's visit to Africa.
Clarke Energy will deliver GE's J620 (https://invent.ge/2Nxp8vt) 3-megawatt (MW) Jenbacher gas engines across Symbion's Kivu 56 and KP1 power plants, which are located on the shores of Lake Kivu in Rwanda. Clarke Energy will also create jobs in Rwanda to support the servicing of the engines.
Symbion Power is an independent power producer that has secured the rights to deliver two projects in Rwanda on Lake Kivu. The Kivu 56 project is planned to export 56 MW of power into the Rwandan grid under a 25-year concession.[1] KP1 originated as an earlier pilot project, and Symbion has acquired the plant and will upgrade it from 3.6 MW to 25 MW, which will be delivered to the Rwandan grid system under a separate 25-year concession. [2]
Symbion Power's Founder and Chief Executive Officer Paul Hinks said, "After a long and rigorous competitive process, we have selected Clarke Energy, using GE's Jenbacher gas engines, as our preferred technology provider. These two power projects at Lake Kivu will increase capacity by 81 MW and significantly reduce the current cost of generation in Rwanda."
Lake Kivu, one of the African Great Lakes, is a unique body of water in the world, which at its base is saturated with biogas that is a combination of methane and carbon dioxide gases. This gas is produced by way of the unique combination of 500-meters (m) depth, heat originating from magma under the rift valley and microbes, breaking down organic material that falls from higher in the lake. The surface of the lake is 1,460 m above sea level.
Unlike normal biogas, which is produced in anaerobic digesters, organic process plants process biodegradable waste, so at the base of the lake, the biogas contains only 20 percent methane. This level is lower than that required even in a Jenbacher gas engine. The plan is to strip the carbon dioxide—which forms the balance of the volume of the gas—using water and then to put the gas into reciprocating gas engines located at discrete power stations on the shores of the lake. The electricity from the engines will be put directly into Rwanda's electricity distribution network.
Clarke Energy's Managing Director in Africa Alan Fletcher said, "We are delighted to have been named the preferred bidder by Symbion Power for these two key projects on the shores of Lake Kivu. Our proposed solution is able to deliver reliable supplies of sustainable energy and support jobs in Rwanda and the United Kingdom."
The result of continuous enhancements and extensive experience, GE's Jenbacher Type 6 gas engines are an advanced and reliable addition to its product line. The 1,500-rpm engine speed results in a high power density with low installation costs, and its pre-combustion chamber achieves high efficiency with low emissions.
"GE's Jenbacher gas engines will provide higher efficiency and increased capacity for Symbion Power's projects, helping to solve the energy challenges in the region," said Leon van Vuuren, general manager, global sales and commercial operations for GE's Distributed Power business.
---
Distributed by APO Group on behalf of GE.
Media contact:
Susanne Reichelt
GE's Distributed Power
+43 664 80833 2382
susanne.reichelt@ge.com
Alex Marshall
Group Marketing & Compliance Director, Clarke
Energy
+44 7917 066 242
alex.marshall@clarke-energy.com
About Clarke Energy
Clarke Energy (https://www.Clarke-Energy.com/), a Kohler Company, is a leader in the engineering design, installation and long-term maintenance of gas engine-based power plants. The company is authorized sales and service provider for GE's Jenbacher gas engines in 25 countries. Clarke Energy employs over 1,100 staff and has over 6,300 MWe of Jenbacher generation equipment installed globally.
About GE's Distributed Power business:
GE's Distributed Power business, which includes the Jenbacher and Waukesha product lines, is a leading provider of engines, power equipment and services focused on power generation and gas compression at or near the point of use. Distributed Power offers a diverse product portfolio that includes highly efficient, fuel-flexible, industrial gas engines generating 200 kW to 10 MW of power for numerous industries globally. In addition, the business provides life cycle support for more than 48,000 gas engines worldwide to help you meet your business challenges and success metrics—anywhere and anytime. Backed by our service providers in more than 100 countries, GE's global service network connects with you locally for rapid response to your service needs. GE's Distributed Power business is headquartered in Jenbach, Austria.
About GE Power:
GE Power (www.GE.com/Power), is a world energy leader providing equipment, solutions and services across the energy value chain from generation to consumption. Operating in more than 180 countries, our technology produces a third of the world's electricity, equips 90 percent of power transmission utilities worldwide, and our software manages more than forty percent of the world's energy. Through relentless innovation and continuous partnership with our customers, we are developing the energy technologies of the future and improving the power networks we depend on today. For more information please visit www.GE.com/Power, and follow GE Power on Twitter (https://twitter.com/ge_power) and on LinkedIn (https://www.linkedin.com/company/gepower/).
About GE:
GE (NYSE: GE) (www.GE.com) is the world's digital industrial company and changes the industry with connected, responsive and predictive software-controlled machines and solutions. GE is organized around a global knowledge sharing system, "GE Store", which allows all business units to access the same technologies, markets, structures and intellectual property and share them with one another. Every invention promotes other innovations and applications across multiple business units. With people, services, technology and scale, GE offers customers better results, as we speak the language of the industry. www.GE.com
*Jenbacher is a trademarks of the General Electric Company.